Purrr, Inc is honored to host this event to raise funds and help Visiting Veterinarians International improve lives of animals worldwide.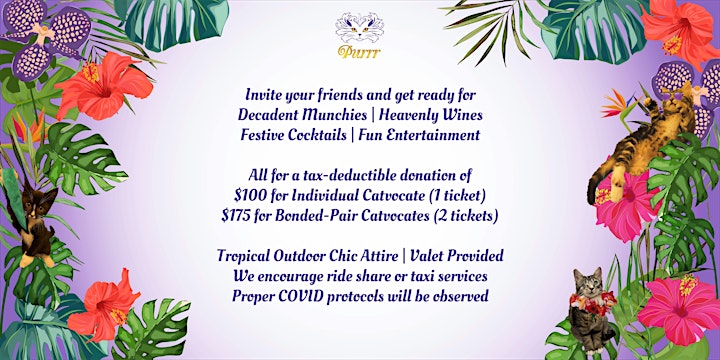 Purrr, Inc invites you to Purrr on the Road!
Join The Purrr Family for a Tropical Fundraising Soirée to send Purrr & Visiting Veterinarians International to Belize to help improve the lives of local animals and animals across the globe.
November 3rd, 2021 | 6:00 to 8:30 pm
1 Isla Bahia Drive, Fort Lauderdale, FL 33316
Purchase tickets by October 25th
Invite your friends and get ready for
Decadent Munchies | Heavenly Wines
Festive Cocktails | Fun Entertainment
All for a tax-deductible donation of:
$100 for Individual Catvocate (1 ticket)
$175 for Bonded-Pair Catvocates (2 tickets)
Tropical Outdoor Chic Attire
Valet Provided
We encourage ride share or taxi services
Proper COVID protocols will be observed
100% of all proceeds will go to benefit Purrr, Inc and Visiting Veterinarians International
Purrr, Inc is a registered 501(c)(3) non-profit organization, dedicated to helping felines in need to live safe and super-fabulous lives. Visit www.PURRR.org for more information. EIN: 82-4205896
Visiting Veterinarians International is made of 100% volunteer members who travel at their own expense to help support animals in need. Each volunteer provides their own airfare to the location, gives up their vacation time at work and provides their skill and knowledge to help these animals. Each campaign is dependent on fundraising and grants to provide the necessary medications and supplies to perform each campaign. For more information, please visit www.visitingveterinarians.com.